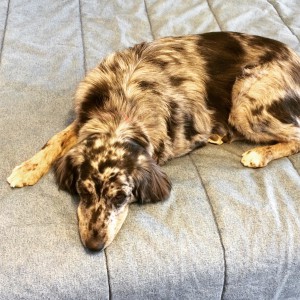 Age: 4
Lives in: Toronto, ON
Breed: Border Collie
Special Traits: Loves going for walks and playing with children
Here's what Bob Conway says about She She
She She was sent to me as a gift from my daughter in Texas four years ago. She is a Border Collie and her birthday was on August 11 where she turned four years old.
She She and I have had our days, but overall this dog is a keeper. She loves to go on walks and drives. She spends the entire day by my side.
You might ask why we named her "She She". This story goes back many years. You see I had always named my female dogs a real princess of a name. We had Muffin, Sweetie and now She She. It had all happened when I was out with my buddies and they were razzing me on what this new dog was going to be called. After some bantering back and forth, a person from a neighboring table suggested "She She". The name was perfect for my She She since she thinks she is a princess. This is why I just had to nominate her for dog of the month.
Photo Credit: Bob Conway
---
| Liz | Dog of the Month
[ssba]
---