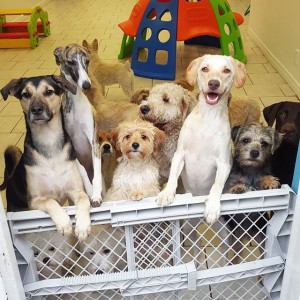 So you have decided to bring your four legged best friend to a dog daycare facility. Your very encouraged by our first post "Doggie Daycares Part 1″  and you truly believe that your four legged best friend will have the time of his or her life. We completely agree with your decision, but now you need to find the dog daycare that will truly fit "your dog's" temperament, needs and your own assurances.  I bet you were thinking "Aren't all dog daycares pretty much the same?".  Not exactly!
Understanding your dog first
I know that you want to have your dog enjoy its day playing and having fun, but I need you to really understand your dog before taking them to a dog daycare. What I'm saying is that dogs, like humans have different personalities. There are extroverts who just love being with large groups of dogs, like our Miya and Meesha. There are others (and I have seen this) where the poor dog is simply overwhelmed. This dog just hides and cowers in the corner just waiting for you to come and pick them up. Depending on your dog, you are either seeing happy exhaustion or relief they are safe and sound at home. This is critical to whether your dog "really" wants and will have a great day.
What to look for in a dog daycare facility
Finding a responsible, professional dog daycare facility to take care of your pet is more than having your little four legged friend dropped off at the neighbors for the day.  Your first best bet is to ask around.
Ask your Veterinarian for suggestions or rejections.
Dog business is booming and dog daycares are opening up everywhere. You Veterinarian will hear and know if there are many dogs coming in for kennel cough or bites or worse things from a dog daycare facility. You Veterinarian will also know who to trust with your four legged best friend.
Word of Mouth
Let's face it, anyone can look good thru a window of a store front or have a great website that has a lot of great pictures, but underneath all this something doesn't always look so bright.  Ask your doggie peeps who they use. Even ask why they use this particular dog daycare facility. What brings them back each week or day? How does their dogs act going and coming home. Miya and Meesha are so excited they basically pull me in the door.
Let your four legged friend try it out
Every Dog Daycare facility worth its weight will ask you to come in and see how your dog fits in with the regular dogs that frequent the place. If you're just invited to leave your dog for the day, I would suggest this could be a warning bell. Not only for your dog, especially if this is his or her first time, but for you too. Most places will allow you see how your dog will engage with the others. This gives you an idea for what the place is actually like and whether your dog and the others will get along. This also gives you an idea of the staff at the Dog Daycare and what they are like. How engaged are the staff with the dogs? How many dogs are in the dog daycare?
While at the Dog Daycare have a look around, give the place your own "sniff" test as your pup is doing the same. Is the place clean? Does it smell bad?  Do the dogs have a separate place to eat? Are there lots of toys and things to do?  Are the Dog Daycare staffs being engaged with the dogs? Or are they just sitting around? Is the Dog Daycare staff trained to work with dogs? With so many dog daycare facilities opening up, it's better to understand whether this is just a business to make money or do they really care for their doggie friends. Remember this is your family member you are entrusting to these people.
You have chosen your best friends play home away from home
Things to understand and consider are hours of operation. What time can you drop your dog off and what time do you need to pick them up by. What happens if you can't make the pick up?
Rates for dog daycare facilities are generally dependent on your location and what services they have to offer.  There is a difference on having a dog daycare out in the rural areas versus a downtown one.
In Summary
When you are looking to provide a fun place for your dog to hang out, first understand your dog and what kind of setting he or she would like. Is your dog a wall-flower or a fun loving dog? The dog daycare staff should provide you with ideas on how they will help your dog's stay is the best day for them.  If the dog daycare doesn't pass yours or your dog's sniff – trial test.. walk away!
If you have a story to tell about your dog and dog daycare facility please let us know. We would love to hear whether it was a good experience or a not so good experience.
If you are a dog daycare facility and want to tell your own story, please leave us a comment or contact us "here"
Our next post is on dog daycare facilities size, staffing, training and licensing!
Photo Credit: Nice Diggz