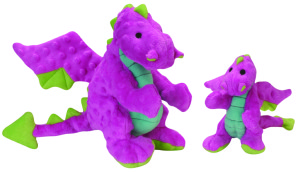 When it comes to picking the right toys for a puppy, there are plenty of options. There are entire aisles of puppy toys at your local pet store, after all!
However, when you have a destructive little puppy and a whole pile of reject puppy toys that lasted 5 minutes, it's hard to not feel discouraged. Never fear, Matti and Meesha have done all of the work for you! These puppy toys are durable, long-lasting, and fun!
Here are Meesha and Matti's top puppy toy picks for puppies under 6 months old:
Deer Antlers
You can get these at your local pet store in plenty of puppy-appropriate sizes. They're natural, durable, and highly interesting to dogs. Deer antlers are fantastic chew toys that last a long, long time!
Matti was lucky to have been gifted a 100% wild dear antler and it's one of his favourite things.
Things to watch out for:
Where were the antlers processed? Like all treats or consumable toys, look for Canadian-only!
Digestive upset. There are some reports of puppy diarrhea linked to antlers. Matti has a super-sensitive stomach and did not have any issues with his antler chew toy.
You can purchase these on Amazon Canada or PetSmart  or Amazon US or Best Bully's Antlers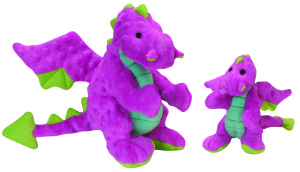 Ultra Durable Stuffies
There are a million and one cute stuffed puppy toys for dogs. Unfortunately, many of them didn't survive Meesha or Matti's enthusiastic play time sessions.
Go Dog makes a line of extra-sturdy stuffed toys for dogs that really last! Other than some accumulated dirt – which is easily solved with a little ride in the washing machine – these Chew Guard Dragons stand up to a lot of tooth action from the puppies.
You can purchase Go Dog toys on Amazon Canada or PetSmart or Amazon US 
Stuffing-free Soft Puppy Toys
Matti has had a Skinneeez Dog Toy (the polar bear) since his first day home. Though the squeakers eventually wore out – possibly a good thing! – the toy itself is amazingly durable and still one of his favourite objects.
I bought an extra fuzzy fox version for training use only, because it drives him so crazy. It's fantastic for "drop it" or "leave it" practice, because he wants the toy very badly.
You can purchase Stuffing-free Soft Toys on Amazon Canada or PetSmart or Amazon US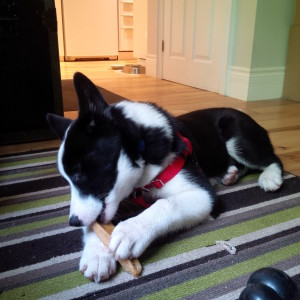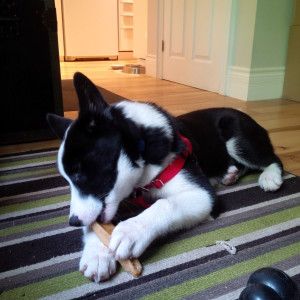 Himalayan Cheese Chews
This is the holy grail of busy puppy chew toys. At 4 months old, it took Matti 2 weeks to even make a dent in the chew – not that he didn't try!
Himalayan cheese chews are fantastic for puppies that like to chew on wood, since it's the closest thing to it. I credit the lack of wooden furniture damage around here to Himalayan cheese chews!
We bought the 70+ lb version, because Karelian Bear Dogs have one of the strongest jaw force abilities in dogs – our adult dog, Misha, stole Matti's chew and crumbled it in minutes. In general, I'd suggest following their weight guidelines when buying.
You can purchase Himalayan Cheese Chews on Amazon Canada or PetSmart or Amazon US
Ball Treat Dispenser
A mentally busy puppy is a happy, tired puppy! The treat-dispensing ball is fantastic, because it makes puppies work to earn their dinner or treat. Matti actually asks for his dinner to be put in the ball, because he thinks getting it back out is so much fun!
Some dog trainers say that they don't use a bowl with puppies because puzzle toys are the best way to keep a puppy busy and working.
You can purchase Ball Treat Dispenser  on Amazon Canada or PetSmart or Amazon US
If your dog has a favorite toy or treat he or she likes, please leave us a comment below. We would absolutely try it out with Matti and Meesha!
in the mean time.. happy play time!