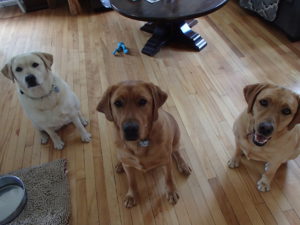 We were lucky to have Sophii and her human chef Anne send us some pawsitively yummy dog treats! It started off with a wonderful letter to myself and the Brood! The Brood is Miya, Meesha and Koda.
We opened the box to find all kind of lovely things that included treats of varying size, some delicious stew and fur care items. We decided to tackle, literally, the treats first.
Here are a few pictures of our start: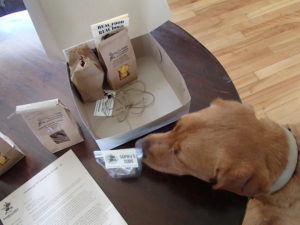 As you can see Koda is the first to investigate.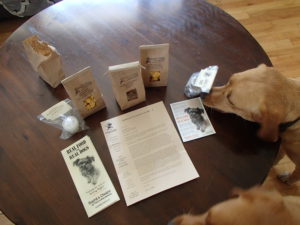 Meesha is helping me to set up. She is always very helpful that way.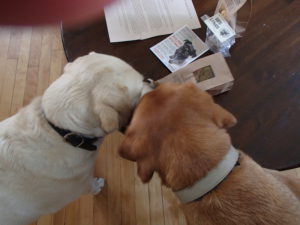 Then tussle for the treats begins with Miya and Koda!
We started with the Dog-Nut Holes which were made with pumpkin, apples and gluten free oats. The size for these treats and the Sourdough Pup-Pretzels which are made of carrot juice, flax, olive oil and whole wheat sourdough were a good size for these Labradors. Every dog was putting up high four-paws for more!
Sophii also gave her new found denmate friends little Beef Stew Milk, Kefir  bones. We had to be a little more careful not to do our usual inhale of food with these ones. We have other doggie friends we are going to share these treats with.  They will find this size a perfect bite for them.
Then came the Cheese Chompers.. Yummy. I like these since they are especially good for the dogs skin, coat and immune system. With these three Labradors always playing outside and eating whatever they can these will definitely come in handy.
Overall the gang of always hungry Labrador dogs gave Sophii's Choice treats a pawsitive paw up!  Here is a link to Sophii's website for you to try these great treats.
This is a picture of our new doggie friend Sophii, isn't she so cute!  Sophii, Koda sends you a message "Woof more treats please!"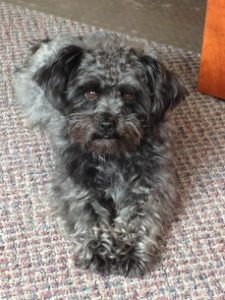 Stay tuned for more reviews since we also got some yummy stew to try!
Not too mention when it starts to get colder outside and the all natural Sophii's Soft Paws balm will be coming in handy on their paws.