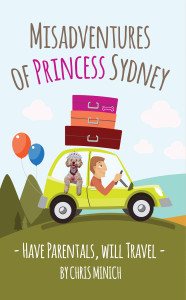 Misadventures of Princess Sydney: Have Parentals, Will Travel is the second kids and dogs book in the Princess Sydney series. Readers call Minich's writing, "fun-filled," "insightful and creative," and "heartwearming."  If you are between the ages of 8-12, a dog lover, or a kid at heart, this book is for you! You can find Chris's books on
for our United States families and friends on
—>     Amazon.com   and  —>    BarnesandNoble.com
for our Canadian families and friends on —–>   Amazon.ca
Book Description:
"You'll have a great time," said the Parentals. But Princess Sydney knows better! America's favorite crafty cockapoo reluctantly embarks on summer vacation, along with her bumbling brother, Buddy.
She expected chaos, but she she never expected to lose her cool when the trip takes an unplanned turn. Silly boy dogs, leftover pizza, and fair maidens are just a few of the bumps along their travels that will keep readers laughing and in love in this second book in the Princess Sydney series. As Sydney would tell you, "Why wouldn't it?"
About the Author:
Chris Minich is a writer living in Snoqualmie Washington. He enjoys spending time with his wife and their two precocious dogs, Sydney and Buddy. Chris is also a die-hard Seattle Seahawks fan.
You can find out more about Chris and the Princess Sydney series on his website, www.chrisminich.com, twitter, @cockapoosyd, Instagram, https://instagram.com/cockapoosyd/ or Pinterest: https://www.pinterest.com/cockapoosyd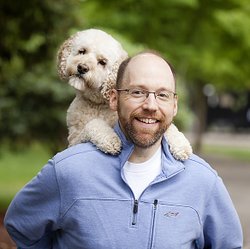 Photo Credit: Chris Minich