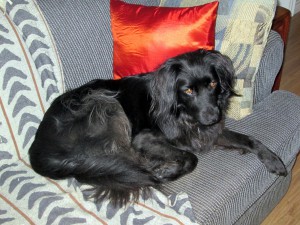 Age: 6
Lives in: Wolfville, Nova Scotia
Breed: Border Collie cross
Special Traits: Loves to run and play.. especially chase coyotes
Here's what Nancy Burbidge says about Roch
Nancy and I have been long time friends. She moved out to Nova Scotia a number of years ago with her cats. Nancy now has a dog and is nominating him for dog of the month. Here is Roch's story a definite member of the WOOF Now What den and Miya & Meesha's new friend. Can't wait to visit Nova Scotia one day soon.
My dog's name was Rocky when I got him 6 years ago in the month of December. He turned one on December 24th, just a few days later. So his birthday the 24th, mine is the 25th and our neighbour Cosie's is the 26th. Cosie's mom reminds me of this every December. Any way I know you'll appreciate why I changed the spelling of my dog's name to Roch (Roch is also an old friend of WOOF Now What). Brings back lots of memories of Toronto and the work place!!!!!
By the way we just came in from the morning run. Instead of the dry trail he decided it would be much more fun to tear up and down through the recently ploughed corn fields. He is covered in dripping brown mud. Disappointment for him – he didn't catch the coyote he was trailing.
Photo Credit: Nancy
---
| Liz | Dog of the Month
[ssba]
---