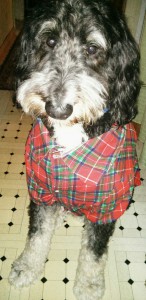 Age: 4
Lives in: Mississauga, ON
Breed: Bernadoodle (Bernese Mountain and Poodle)
Special Traits: Kind, Sensitive, Intelligent , Cuddler
Here's what Amanda Thomas says about Frisco
Frisco is a very kind dog.
He loves to play and interact with many different dogs. On our daily walks he greets everyone and every dog. Even the littlest, smallest dog he will bend down to greet them. Our neighbors call him "The gentle giant" . He is a big cuddler and a great listener. You will often find him curled up on the couch waiting to cuddle, watch a tv show or a Raptors basketball game with you and hear about your day.
He likes to listen to music and dance. He also loves playing in the snow.
He often brightens up our day.
We are very lucky and happy to have him as a part of our family.
Photo Credit: Amanda Thomas
---
| Liz | Dog of the Month
[ssba]
---