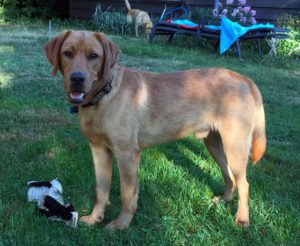 Age: 1
Lives in: Hamilton, Ontario
Breed: Labrador Retriever
Special Traits: A crazy puppy with a soft heart
Here's what Liz says about Koda
Koda is our newest member to the WOOF Now What family. He came to us at the age of 10 months old. He is a Fox Red Labrador Retriever.
Koda came with a few issues, but has been able to come out of his shell… as of now that's an under statement. There is no getting in the way when he wants to run and play with out a care  with his big sisters Miya and Meesha!
Big sister Miya and Meesha have a lot of fun with him Especially Meesha since as any big sister loves to correct him when she can.
Koda has become my husbands shadow. As my husband says, its nice to not be the only male in the family.
Meet Koda.. he turns 1 on August 13! Happy early birthday and being our August dog of the month!
You will read more about Koda in story about how we worked with him to bring him around to be more sociable and a big caring puppy!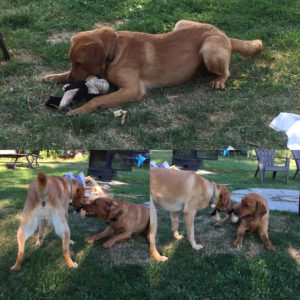 Here is Koda and Meesha playing in the yard.
---
| Liz | Dog of the Month
[ssba]
---