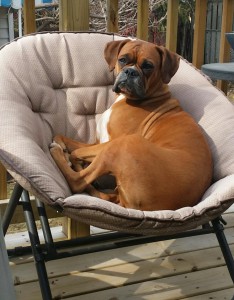 Age: 5
Lives in: Mississauga, ON
Breed: Boxer
Special Traits: She smells adorably like "nachos chips"!
Here's what Hanna Guerra says about Coco
Coco came to live with our little family about three years ago now. We learned about her in the classifieds when her past owner was looking for help to find her a new family. Her past owner lived on a farm up north (past Shelbourne) and had rescued Coco from neglect in Brampton.
However, one of the two large female doberman dogs she had since they were puppies was picking fights with her constantly to the point that Coco's ear had a nip and was bleeding when my daughter and I got there.
When we arrived at the farm house, I remember that the two doberman dogs came rushing to our car barking — it was a little unnerving. Whereas Coco stayed by the house guarding the family's toddler who seemed to freely wonder everywhere.
In fact, the toddler had started to walk down the driveway when Coco followed the toddler and pretty much "herded" her back to the house! A boxer herding! So interesting!
Ani and I fell in love with Coco's cute face and her "motherly instincts". Despite the fact that she was weary of us (strangers) and was growling at us, we knew that she's got a heart of gold.
We brought her home that day.
And our lives have forever been changed.
Coco is a lady inside our home and with her family. She does not take food without asking or being told to. She does not get on the furniture (sofa) unless invited. She does not jump on people to greet unless you signal it's okay. She checks in with her little people every morning and gives them kisses.
Coco is an amazing and fast runner and "roughhouser" on the fields. To this day, we are surprised by her quarterback skills with the other dogs — because, at home, she is simply such a lady!
Hope you enjoyed our story of our Coco and why we think she is always our dog of the month!
---
| Liz | Dog of the Month
[ssba]
---