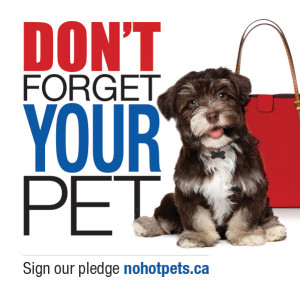 Are you and your family members animal lovers? What about your friends? Let them know about the No Hot Pets campaign. WOOF Now What is a Community Sponsor of No Hot Pets. We have seen what the heat can do to a dog left in a car, while the family goes into the mall only for a "short time"!
The award-winning "No Hot Pets" campaign, created by the Ontario SPCA, aims to remind pet owners of the dangers of leaving pets unattended in a vehicle during the hot summer months.
See a Dog in a Car?  Report it!
ACT FAST. SAVE A LIFE.
If you spot an unattended pet in a vehicle that appears to be suffering from heat exhaustion, do not hesitate to:
• Call 310-SPCA (7722) if in Ontario
• Call your local SPCA or Humane Society
• Call your local Police