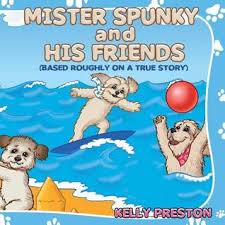 The Lil'WOOF Reading Club has had so much fun reading kids and dogs books over the summer we have decided to create the Lil'WOOF Kids and Dogs Book of the Month Club. Our September featured author is Kelly Preston. We will be reading and reviewing her book called "Mister Spunky and his friends". Kelly also written another book called "Real Dogs Don't Whisper", but we will leave that book for another month.  At the end of September our Lil'WOOF members will provide Kelly a kids-centric version review of her book "Mister Spunky and his friends".
This books main dog-character is Mister Spunky.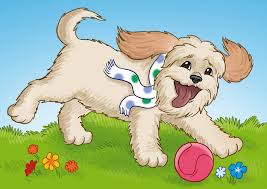 However, Mister Spunky has many friends.


This is Buffy, a beautiful Cocker Spaniel.  She loves to wear bows in her hair, as her hair is long and silky.  Sounds very familiar to our Lil'WOOF Club girl readers.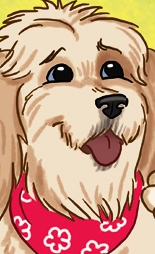 This is Carla Mae, a very cute mixed breed.  She is the third character and friend of Mister Spunky.

This is Miss Sunshine, she is a cute little girl puppy that has special needs and rounds out the little group of friends.
Kelly Preston has written a book that we believe every family should read.  Each character has many human traits that we can all relate too whether human or animal. As Mister Spunky meets each of his friends we learn the importance of love, friendship and helping those with special needs. I had chance to read Kelly's Children's Blog which I have linked to this post. Kelly wrote a blog entry about The Yellow Dog Project. This project is one that WOOF Now What respects and has helped to create awareness of , read our other post informing families on how to approach dogs.
As with each of our authors, we asked Kelly to provide more of an insight to how the book came about here is our interview with Kelly: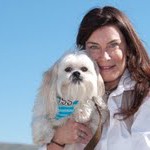 Guest Post Topic:  The Inspiration behind the Mister Spunky Book
I would like to say thank you for this opportunity, sharing Mister Spunky and His Friends
(www.misterspunky.com and the story behind it. Prior to Mister Spunky and His Friends, I published an award winning book, Real Dogs Don't Whisper
(www.realdogsdontwhisper.com), which highlights my life journey caring for four special needs dogs and the life lessons they taught me along the way.  The overall message within Real Dogs Don't Whisper is about giving those with special needs a second chance.  The book touches on integrity,unconditional love, leadership, trust, stopping abuse and opening your heart to receive and give both unconditional love and friendship.  To lighten the message, I developed a co-author, Mr MaGoo; Mr MaGoo is my Lhasa Apso and he is larger than life.  He adds humor within the book; sharing with the reader how life is so tough for him being the only male in the house and living with a crazy lady, me.
Real Dogs has an audience from preteens to young adults to adults.  I realized that I was missing an opportunity to reach children about the importance of love, friendship and helping others.  I decided to take the story line and concept behind Real Dogs Don't Whisper and place it in a picture book for children, even added coloring activities at the end of the story for children to color.  Mr MaGoo in Real Dogs Don't Whisper is Mister Spunky in this children's book.  He enjoys life, has fun no matter what he is doing; and, helps others dogs he meets along the way to the beach.  At the end of the journey to the beach, Mister Spunky has developed three new friends, each helping each other. The book touches on anti-bullying, friendship, love and helping others especially those with special needs.  Mister Spunky and His Friends is idea for children ages 5 to 10.
Mister Spunky and His Friends (ISBN: 978-1484966570) is available at the following channels:
Website www.misterspunky.com
In Summary
This overview of "Mister Spunky and his friends", as well as Kelly Preston, provides you an insight into what our Lil'WOOF Readers are reading. Our next post will be from the Lil'WOOF Readers and what they think of Mister Spunky, Buffy, Carla Mae and Miss Sunshine and their incredible journey of friendship.

If you and your child have read the "Mister Spunky and his friends", please let us know what you thought of it!  In the meantime, I can't wait to hear what our Lil'WOOF Reading Club thinks about this book. I'm truly excited to read "Mister Spunky and his Friends" along with the Lil'WOOF Reading Club.
Photo Credit: Author Kelly Preston