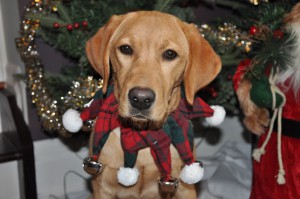 Every time this happens and now you know this is number three, it never ceases to amaze me that even as a puppy the look of wonderment is there just like for a little child at Christmas. Meesha is wondering what all the excitement is about as she looks at all of us decorating the house. All this neat stuff to run off, hide and chew on! This all looks cute, but make sure there is parental supervision. You don't want your puppy swallowing something that could really hurt their intestines!
Christmas presents for puppies and doggies
We all love to shower our dogs with Christmas presents as well. Jackie and Miya have their own ornament, and they also have a stocking too! Meesha needs her own festive stocking and her own ornament for the Christmas tree with her name on it! So off we go to find that extra special stocking and gift for all the dogs.
In Meesha's case it's easy, since she needs a new winter coat, booties, and lots of chew things, since she is still teething! The other two girls Jackie and Miya also need extra-special presents. Jackie needs something snuggly that will keep her warm. Miya has outgrown her old coat and needs new one. I better not forget something that tastes good too.
My biggest challenge will be keeping all three dogs from ripping open the wrapping paper before Christmas morning.
Here are some of my favorites for the dogs: Kongs to fill with yummy things, Nylabone chews, and busy toys that you can fill with treats or kibble. Then there are the squeaky toys to replace the ones that just got torn apart leaving stuffing everywhere!
Consider getting a brand new bed to give your puppy or dog.  Making a place to feel safe and call their own.
Happy Doggie Howlidays
Whatever you pick … your puppy or dog will be completely thrilled to get something new. Even if it may just last a little while!  Enjoy your Christmas shopping for your pet!  But most of all, have fun with it. I know I will!