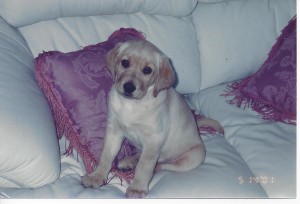 Getting into a routine
After the initial night of Jackie sleeping in my bed and every night after that, we seemed to get into a routine at bed time. She was very easy to potty train. She never soiled my bed. When she had to go out I generally got a wet nose in my face or a paw nudging my arm. That part of our routine seemed to be working. In the mornings we would have breakfast together and go for a short walk before I had to leave for work. Jacks learned quickly that when I said "I'm going to work you need to go pee!" (Using the same terms everyday worked after while) she got to know that I wouldn't be home too soon.  I came back as soon as I could during the day to let her out, but there were times that I just couldn't make it back on time. This wasn't the best thing I could have done while she was just a little puppy. Looking back I should have looked into a dog walker who could have taken her out on a scheduled walks. This would have alleviated my guilt and provided Jacks with a better environment.
Dog Lessons Learned – Dog Walkers
Dog Walkers enable you to leave the house for work or school during the day and know that your pet is in good hands. Dogs are pack animals. They don't particularly like being left on their own. Dog Walkers help keep your pets on a schedule. This is critical in the first year of a puppy's life.
No Crate with this dog
As you know I had not purchased a crate for Jacks. So you may wonder where she stayed during the day since she was still a puppy and not completely trained. Well at the beginning of our time together she had the house to roam. However after coming home to a puppy that seemed to cause her own version of a tornado in my home (paper, poo, pillow fluff everywhere, I think you get the picture) I needed to provide her own space she could call her own. No not a crate I still felt bad putting her in something so small. So I gave her one of my bedrooms.  It was the room above the garage. In the end this too proved to be the wrong thing to do as well! Not only was the carpet was destroyed, but my sweet Jacks just about ate through the floor boards to the garage.
Dog Lessons Learned – Crate Training is Imperative
Each dog comes to know their crate as their own space. The crate also helps to create a safe environment. Ensure you get the right size crate for the adult size your dog will become. Many dog crates today offer a divider for the puppy stages, so the crate will grow with your puppy.
Dog Lessons Learned – Puppy Training works
Once Jackie was 4 months old I enrolled the two of us in a puppy training course. This was a lot of fun. This was also a true test of who was boss. Can you guess who was winning at the start? As the weeks progressed we began to work together. I wouldn't say we graduated top of the class, but I feel we made out well.  Dog and owner understood each other much better. Not to mention the great time she had playing with the other puppies during social time.  Jacks still liked to take off in the park on me, but when I called her after the first 5 times she finally came back!
Ensure you and your puppy enrols in a good puppy course (more to follow on types of courses). Also, ensure you both practice everyday at home. This not only helps train your puppy but also gets them socialized.
Jackie seemed to grow up overnight. She still had her puppy craziness about her, but adult life could be seen on the horizon! However, first we had to get through the terrible twos!
Stay tuned for more Jacks and puppy part 2 to come.