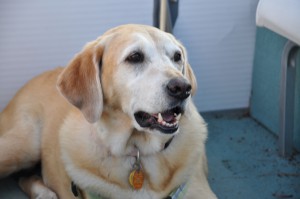 Jackie was born March 22, 2001 on a farm in Hagersville, Ontario along with 5 brothers 4 sisters. I was out for a drive in the country when I saw the sign on the side of the road "puppies to good home". Something me stop and have a look. I was thinking about getting a dog for myself for awhile now. Something just felt right about the time and this place. The owner of the farm has a yellow Labrador named Lucy who just had 10 puppies. She explained that she thought the father was a Golden Retriever that would come and visit but couldn't confirm this since she also had a German Shepherd suitor as well!
I was so excited when I saw the puppies crawling all over Lucy. However on counting the number of puppies, I could only see nine. I was about to ask what happened to the tenth puppy when I looked around and saw the little puppy. She wasn't paying attention to what her brother and sisters were doing. She was running around checking out things.  That was when I knew that this was the puppy I for me. I wanted an independent puppy since I worked long hours.
Jackie was the right fit for me
I was looking for a dog that was:
Friendly and social
Independent and curious
Loyal and intuitive
Since I didn't always have the luxury of a routine this puppy had to able to fit right in with her surroundings and become quite flexible with our routine which could change easily. This puppy seemed to have all the qualities I was looking for, not to mention being very cute and cuddly.
Getting ready for Jackie
She was 7 weeks old when I saw her, so I said I would be back in a week when she turned 8 weeks old to take her home.  This gave me a week to get the house ready for my new found love of my life. I had so much fun getting toys and more toys for her.  I read articles on what to do when bringing a puppy home, how to prepare the house and anything else I could get my hands on.  Something's I was better at doing than others. A crate would have been a good thing.
Bringing Jackie home
The following week I returned to the farm and picked up Jackie. It seemed as if she knew I was coming to take her home. She was waiting for me with Lucy (her mom). I brought a towel which I rubbed on Lucy so that Jackie would have her moms scent to take home with. This made the drive home much easier on her. So off we went for a new life of adventure together.
I named her Jackie, but I call her Jacks. Not to mention all my 'pet names' for her such as Big Bear and Goose. When we got home the first part of the day and evening were quite uneventful. I think we were both so tired from the excitement. We played a bit and she explored her surroundings. When bed time came this is where we started to run into a problem. You see I didn't want to put Jackie in a small crate. I wanted her to live where ever I was. After all it was her home as well. Big Mistake! (See my blog on Crating Puppies.)
I put out a small box and filled it with a towel we Lucy's scent and a cuddly toy. Said goodnight and went to bed. We were both in the same room. Well after listening to her wail, whine and bark for 15 minutes I couldn't take it anymore. Jackie cuddled up right next to me on the bed. From that day on she has slept with me every night. Even now that she is 13 years old.  We have a set of stairs to my bed that she uses to come up at bed time. This was quite interesting for my husband since to this day Jacks l still gives him a look of "you want moi to move?" and we have been married for 10 years!
Life with Jackie
Life with Jackie has never been a dull moment. From chewing floor boards, eating odd things, to finding her own, misguided adventures. However for every silly crazy thing there have been hundreds of great things. I'm sure Jackie was born an old soul. She just knows what I'm feeling and knows just what to do. We have gone through many experiences over the years. She has always been there for me. As I always will be there for her. Her stories are full of lessons learned; specifically things I have learned to help me a better dog owner for not only Jackie but my future dogs.
Jack's now is 13 years old and has have Cushings Disease, pancreatitis, plate in her knee, some allergies and severe arthritis. There is nothing I wouldn't do for this dog! She is a wonderful swimmer and loves boating. She has a great sense of humor (read about what happened to my daughter's elephant). She has her own way of doing things.  As she gets older she's become quite persnickety. However she's a great listener and my best friend.  My tales of Jackie and me will hopefully provide you with tips and knowledge of what having a true best friend is all about, not to mention lessons I have learned.
This is the story of Jackie. Not only is she the love of my life, but you will see her story stretch from puppy, to living years, to now the best years as my golden girl.