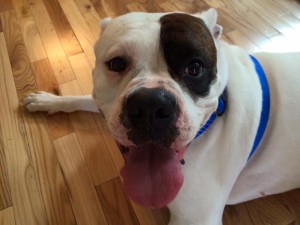 Hello, my name is Sophie. I'm looking for my forever home.
Here's is a little bit about me:
To start with I'm an American Bulldog, if you click on my breed name you will see a little more about what kind of dog I am. Since I'm an American Bulldog I will be a very loyal and reliable part of your family. If your family has children I am very good with them as well.
I'm also a year and a half old. My vaccinations are all up to date and I'm spayed.
I'm a friendly young girl who is looking for a family that I can play with, go for walks and just love. I have been perfectly house trained. I love to go for walks and my foster family says I walk like a dream! I can be trusted to be left alone at home. I will not chew or get into any trouble.
I really love to cuddle up with my foster family at night. Can you tell that I love people? I'm told I'm very well behaved. I'm working on my socializing with other dogs. You see as a puppy I never really got to hang with other dogs and sometimes I get scared of them. The good thing is that I'm a quick learner and am working to overcome this. If you have cat though, I'm perfect with a having a cat as a friend.
Here are some pictures of me…I'm really cute!
How to get a hold of me
I live with my foster family in London, Ontario. Caitlin is the lovely lady looking out for me and trying to find a dog forever home for me. She can be reached via email (cbillin@uwo.ca) or phone (519 868 1708). I hope to hear from soon!
Photo Credit: Caitlin