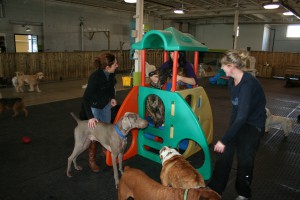 What makes Doggie Central different than all the other doggie daycares? The answer is dogs, dogs, and only dogs. At Doggie Central it is all about the dogs!
When you bring your dog to one of our two locations (Port Credit or Etobicoke/Missisauga) to play they will be greeted with open paws by welcoming Dog Assistants (DAs) and their canine friends. Mornings when their friends are arriving is especially exciting! There is the good morning grunt, sniff and little hello bark. A quick goodbye to their human parents and then let the fun begin!
Doggie Central DAs specialize in everything dog! They are committed to providing a safe environment for your dog to play in with a fully supervised facility that promotes good behaviour while also letting dogs be dogs. Your dog will socialize with canine and human friends while getting the exercise and mental stimulation they need.o
Doggie Central's Dog Assistant's are proficient in canine body language, pet first aid and obedience training. Above all they are attentive, caring and devoted to the needs of the dogs.
Doggie Central provides a structured day with play, feeding and nap times. Check out the webcams to see what your dog and his friends are up to.
Doggie Central is the premier dog center in the GTA. In addition to the daycare services, they have a comprehensive canine learning program. They offer obedience training for Puppies through to Advanced Obedience. Along with one of the most extensive dog sport programs featuring Agility, Fly ball and Treibball. In-home training is also available.
At Doggie Central they strive to make their daycare convenient, safe and stress free for both you and your dog. With 10 years of experience, the right staff and the dedication to building a strong relationship with you and your dog, this makes Doggie Central a must stop for your dog.
Photo Credit: Lesley Doggie Central