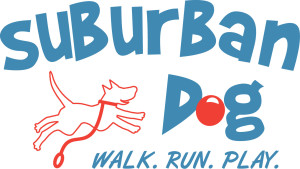 Lauren and Mike love dogs and cats!  They have 2 wonderful cats, Ziggy and Hope, and an amazing Bernese Mountain Dog, Bailey. Looks like Lauren and Mike have a full house just like we do at WOOF Now What. Since they are pet owners themselves they know how to take care of your pets. Lauren and Mike own the Suburban Dog – A Full Dog Sitting and Walking Service.
Suburban Dog Background
I read their website and found that there is a lot more behind Lauren and Mike then just walk and taking care of dogs, cats and other pets!  These two also have a culinary background, that they had expanded the doggie industry. You may have met them at WoofStock a couple of years ago.
Lauren and Mike have more than 25 years' experience in the caring for your pets industry. They are both Pet First Aid and CPR certified for the added safety of your pets. As well as being licensed, bonded and fully insured.
Lauren, Mike and their team are all focused on ensuring that your pets, whether dogs, cats or other furry creatures, are always having a fun filled day.
WOOF Now What is sponsoring Suburban Dog on our Product and Services page.
You can find them under our Dog Sitting and Dog Walker. Please have a visit. Try their services out and let us know what you think of them!
Photo Credit: Suburban Dog