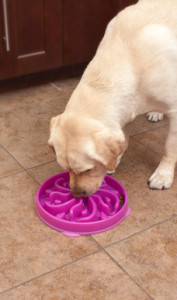 When you own a Labrador Retriever you know you have a dog breed that loves to eat. Our Meesha can out eat the other dogs in our house, not to mention some of her Lab buddies. Dogs like Meesha need to be guided to slow down their inhaling force of eating for their own good.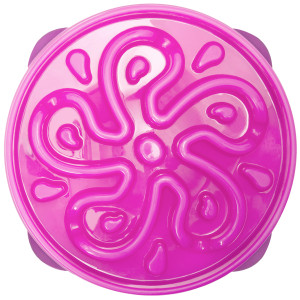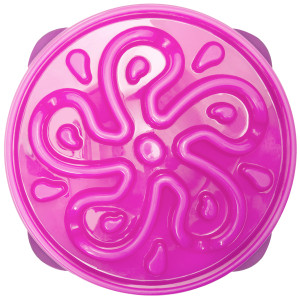 We had to find a solution to a problem that could potentially cause gastrointestinal issues like bloating, regurgitation and the ever big problems for Labradors of canine obesity. We decided to try out a slow bowl feeder. Our choice for Meesha was the Slo-Bowl® Slow Feeder created and designed by Kyjen Co. We purchased the Flower (Mulberry) since we felt that this model had the most detailed puzzle that Meesha had to maneuver to get her food.
Kyjen is a major manufacturer of pet products. When reviewing their website they have many innovative products on the market that can help keep yours "dogs active and engaged."  (Note: we plan to be testing and reviewing a few more of Kyjen products on our site in the future) Kyjen Slo-Bowl promised to bring the fun into eating while helping to maintain a good eating pace for a dog. There web site add promotes that a dog using its Slo-Bowl will ensure that our Meesha will eat slower by working her way through the food maze of ridges and valley making dinnertime feel more like a hunt then a gobble. I also liked the fact that there is a non-skid base to help keep the bowl from travelling around the kitchen. As well it is dishwasher safe and so far has not been destroyed by Meesha.
So how did this Slo-Bowl slow Meesha down?
WOOF Now What dog product reviews gives the Slo-Bowl a "PAWSITIVE" review.
Meesha loves it!  For a 9 month old Labrador what better way to eat than to have fun while eating. Our Meesha has dramatically slowed down her eating pace. She doesn't gobble her food up and isn't choking anymore. I would definitely recommend this to dog owners who have a dog who loves to inhale food like our Meesha.
Here is a link to the Kyjen Co. On the Slo-Bowl for more information "Pawsitively Slo-Bowl".
Kyjen's Slo-Bowl can be purchased online or in stores. It retails for anywhere from $15 to $25 depending on the size of the bowl.  Slo-Bowl in on our Liz Recommends list!
Meesha loves her bowl and I know your dog will too.  If you decide to get the bowl please share with us your experience with us. We wil have it posted on our dog product reviews post of the Slo-Bowl.  In the meantime happy dinner time!
Photo Credit: Kyjen Co.