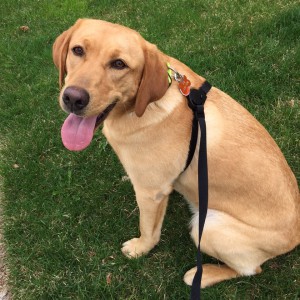 It seems that when Miya and Meesha know that they are en-route to the dog park, they turn into Harness-Dogs and I'm the sulky!  The power of the two of them pulling can be overwhelming. Add a squirrely into the mix and you may pull a muscle!  If your dog's pull as much as mine do, you can understand why I'm always looking for a halter or harness to train and correct the problem. When I saw the No-Pull Harness & Leash In One from MT Enterprises, LLC I contacted Ron to review their product.
How Pull-ezeTM came to be
It seems to have started with a dog named Tucker who came from an abusive home and lived most of his life in a cage.  He wasn't familiar with walking on a leash.  Tucker would thrash and ultimately slip out of a standard collar.  A choke collar would work, but his owners though that was cruel.
Tucker's family decided to find a solution to helping Tucker with his on-leash walks. That led to researching for a more humane solution. At WOOF Now What this is high on our list. Too many times we have seen and heard of dogs choking so much on collars that this creates pressure on the throat and trachea, causing irritation and coughing. As well, since harnesses don't put pressure on the throat, they're recommended for dogs that have an upper respiratory disease or diseases of the throat or trachea.
What MT Enterprises created was the Pull-ezeTM , a no-pull harness and leash in one.
What Pull-ezeTM promises
"The days of your dog pulling you along as you walk are over! Introducing Pull-eze™, the revolutionary new no-pull harness from MT Enterprises, LLC. Throw away those complicated harnesses, inhumane choke chains and muzzle leads and use a Pull-eze™! Specifically designed to attach onto your dog's existing collar for a quick and instant fit. The Pull-eze™ the no-pull harness is designed for use on dogs up to 100lbs and comes in multiple color options. Change your dog walking experiences for the better, with a Pull-eze™ no-pull harness and leash in one! "
So how did the Pull-ezeTM work with Miya and Meesha?
WOOF Now What dog product reviews gives the Pull-ezeTM  a "PAWSITIVE" review. 
Miya and Meesha worked well using the Pull-ezeTM. It was nice to not have to have too many things to attach them to. By having the harness and leash all in one, I didn't have to put a halter on and then attach a leash. The Pull-ezeTM also helped keep both dogs by my side when walking them. If you have a dog that wants to walk in front of you instead of beside you, the Pull-ezeTM is a great training tool.
I would definitely recommend this to dog owners who have a dog who likes to pull all the time or are suffering a respiratory disease.
Here is a link to the Pull-ezeTM no-pull harness by MT Enterprises.
The Pull-ezeTM can be purchased directly on their site or on Amazon. It retails for $19.95 which is a good deal for an all-in-one harness and leash. If you decide to get a Pull-ezeTM  , please share with us your experience with the product.  In the meantime enjoy your walks with your dog!
Here is something extra from MT Enterprises. If you are a Rescue League or No Kill Animal Shelter contact them for a free Pull-ezeTM sample!