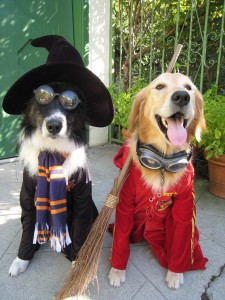 Will you dress your dog up as yoda, a hot dog, or maybe a fairy?
Some dogs really enjoy getting dressed up in costumes.  Other dogs can become stressed, frightened or uncomfortable in a costume. If you want to dress your dog up, start with something simple before Halloween. If the dog seems at ease leave the costume on for awhile to let the dog get use to wearing it. This will give you a better sense of what will happen on Halloween. Pick a costume that fits properly for your dog. Anything hanging or fitting too loose could cause a hazard for your pet tripping or getting caught on other things.  The dog could also ingest parts of the costume and potentially choke, become sick or develop an intestinal obstruction.
If your pet is trying everything in its power to remove the costume, take it off! The dog obviously does not like it, so don't push the issue. Try a Halloween bandanna or collar instead. These days there are many glow in the dark collars on the market. Not only will your pet be illuminated for Halloween, but I find them a safety feature for walking the dogs at night.
Ding-Dong …The streets will be full of Trick-or-Treaters
Does your pet get stressed when the door bell rings on an average day? On Halloween night between the door bell ringing, and the kids singing out "Trick or Treat", the dog that gets stressed easily will have their senses on overload. Plan a quiet place where your pet can stay until the last Halloween ghoul has gone home. Yu could also consider calming aids for your pet such as calming supplement or a calming diffuser. (More to come on calming solutions and products)
In general keep all your pets indoors on this night, not only for the dogs safety, but for the Trick-or-treaters as well. You don't to want to upset a young child who is already afraid of dogs, or upset a dog when that child gets into hysterics.
Since we have more than one dog we put up a gate inside the entrance of our home.  Not only does this save our guests from being overwhelmed by the doggie welcoming committee on a regular basis, this will also serve to help when your little Trick-or-Treaters come to the door.
Candy, Chips and Chocolate.. Yummy but toxic for a dog
Candy, especially chocolate, can be extremely toxic to your dog. Artificially sweetened candy, gum and other goodies may contain other highly toxic substances to dogs. There is also the potential that your dogs may ingest the candy wrappers, causing risk of choking, upset stomach or gastrointestinal blockage. Salty snacks, like chips and cheeses, are too salty and may contain ingredients that can also poison your dog. Make sure your stash of goodies is not accessible to your pets.
If you want your dogs to have their own treats, try sliced carrots and apples or dog approved pumpkin cookies. However make sure not to over feed them!
Artful Halloween decorations
Jack-o-lanterns flickering and winking at each new arrival.
That ghoulish spirit swinging from the tree.
That bat dangling from a string.
All of these decorations can be intriguing to a puppy or dog.
Be sure decorations are not in areas where your dog could ingest them, bump into them or pull them down. Keep candles out of the reach or better yet use LED lights to keep your dogs from getting hurt by an open flame! Make sure that power cords are placed appropriately so a dog can't trip or chew a cord. You wouldn't want your dog to get an electrical shock.
I once heard of a dog eating a whole pumpkin, which ended with a major mess. Poor dog! Poor owner!
We love to decorate our home on Halloween. We even have the dogs outside with us when we are putting up all the decorations.  However, we organize and place the decorations so that no one, trick-or-treaters or dog, will get hurt.
Happy Halloween.. ARH-WOOOOOOOOOOOOOOOOOOOO
Share your pets' Halloween pictures!  Miya and Meesha are still considering their costumes.
Photo Credit: petsadviser.com