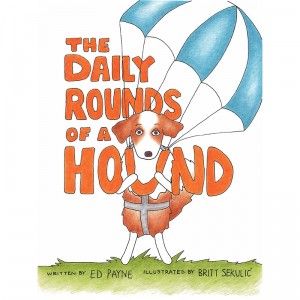 As part of the Lil'WOOF Summer Reading Program, we reached out to a number of authors to see if they wanted to have their dogs and kids books reviewed. Our first featured author is Ed Payne. We are reading and reviewing his book called "The Daily Rounds of a Hound".  The books main dog-character is named Molly Malone. Molly is a cross breed with a beautiful red and white coat. We follow Molly around on her daily journey of life. As you and I have choices on what to do with ourselves on a daily basis, so does Molly.  Ed has written an engaging story for young and old. I would suggest to you that this book should be on many families to read list. It is an inspiring story of a dog and a dog's life.
Molly Malone the main character
We asked Ed how he got into writing dogs and kids books, and what inspired his choice of for the story.
How did I get into writing dogs and kids books?
"Pretty much by accident.  I woke up in the middle of the night about four years ago with most of the first book in my head.  I got up and started banging it out on the computer."
What inspired you to write this story?
"The stories are about a shelter dog we adopted more five years ago that surprised us with 9 puppies just three weeks after we got her.  The first book is her adoption story and how you don't really know anything about the dogs you adopt — where they're from, how they were treated before they came to you, etc.
Do you have other books?
"Yes!  The second book is largely fictional, but it's about when Molly's pups go out into the real word and learns about bullies.  But it's also a story about stereotyping, because the bully in the story isn't the pit bull, it's the chihuahua."
Ed has focused on creating a series around Molly and her daily adventures. We look forward to reading both books over the summer months.
Molly and Ed can be found on their official websites for The Daily Rounds of a Hound.   Ed and Molly can also be found on  The Daily Rounds of a hound Facebook Page.
If you would like to purchase a cope of these books, the Daily Rounds of a Hound can be purchased on Amazon and the Molly and the Bully can be purchased on Amazon as well.
This overview of Molly and Ed, provides you an insight into what our Lil'WOOF Readers will be reading. Our next post will be from the Lil'WOOF Readers and what they think of Molly and her daily hound adventures.
If you and your child have read any of the The Daily Rounds of a Hound series, please let us know what you thought of it!  In the mean time.. happy summer reading!
Biography of Ed Payne Author of the The Daily Rounds of a Hound Series
Ed Payne is an Emmy award- and Peabody award-winning journalist for CNN, who also writes rhyming children's picture books on the side.  Talk about polar opposites! Ed now has three books in his series. The Daily Rounds of a Hound is the tale of Molly Malone, an adorable mutt adopted from an animal shelter by a new family.  Once home, the family learns that Molly is carrying stowaways, a litter of nine pups.  Molly has no pedigree, but takes her job as family pet seriously. She patrols the house, protects the kids and goes on secret missions (or does she?). It has been reviewed in The Marietta Daily Journal and by the Midwest Book Review. Molly and the Bully – The Daily Rounds of a Hound 2:   Molly and her nine pups have a problem. They live in a neighborhood where it's dog-eat-dog and the other hounds don't always play fair. Exploring their new world, the pups aren't ready for what they encounter — bullying.  They have a choice. Will the pups give in or will they use the power of love to prevail? The Daily Rounds of a Hound Colors the Town:  Acoloring book featuring more than 100 pages of fun from the first two books in The Daily Rounds of a Hound series. Ed is a Nebraska native, but has lived in Marietta, Georgia, since 1990.
Photo Credit: Ed Payne