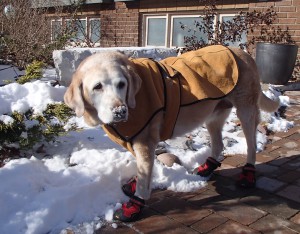 As you know my Jackie is now 13.5 years old. She still loves the snow and turns into a puppy when the first flakes begin to fall.  My nick name for Jackie during the winter season is "Snow Dog". (She is also known as Santa Dog, but that is for another post). However Jackie needs me to ensure that she is safe and warm while we are outside so it's my job to ensure that Jackie enjoys winter in comfort.
Your senior pet may be getting slower and have arthritis, but that doesn't mean she or he should stay at home once it starts snowing. Our senior pets benefit tremendously from regular safe exercise. During the winter season, this means we owners need to make sure our pets are ready to go outside before that door opens!
Here are a few of my winter outdoor tips for your senior dogs.
Keep your senior dog's moving.
If your dog is anything like my Jackie, short walks a few times a day are better than long walks. Senior dogs must get exercise to keep their joints nimble as well as keep their minds active and attitudes positive
Don't let your senior dog over do it
As they say, "The mind is willing, but the body is not able".  Your dog might want to run and jump through the snow like she did when she was a pup, but she will be paying for it with aches and pains the next day. It's up to us as their owners to judge how much of a good thing your dog is able to take.
Keep your senior dog on a leash.
It's our responsibility to keep our pets safe. I can walk Jackie off leash, but I put her on the leash in winter (ESPECIALLY ON THE STREETS, SIDEWALKS AND IN THE WOODS).  Her eyes and ears are not as sharp as they used to be.  Having her on a leash is going to ensure my senior dog stays out of trouble. Also their reaction time is much slower and if she wanders onto a road, where cars have a harder time stopping in the winter.  And if you are out in the forest, your senior dog could loose her footing on ice.  With a leash you're right there to help her out. (Check out our product category Dog Collars & Leashes)
Take care of senior dogs paws and legs.
During the winter season we need to take care of our dog`s paws no matter their age. Dry cracked paws are not fun when you're walking over de-icers. Not to mention getting snow and ice trapped within her pads since this will cause considerable pain and discomfort. If your senior dog is anything like my Jackie and already has aches and pains, this will add to the problem.  (Read my post of "Keeping our Dogs Paws Healthy and Happy" and Check out my recommended product "Only Natural Pet Balm")
Dressing your Senior Dog for the weather.
As dogs age, they have problems regulating their bodies temperatures. If they have certain other issues (such as Cushing's Disease) this is even more of an issue. You need to ensure that your senior dog is outfitted with a warm coat and boots to help take the chill off. There are many styles of coats as well as fabrics. (Read my post of "Puppy Its Cold Outside") so your senior dog will not only be warm but look good as well!
My Jackie loves her doggie beds
At my house Jackie has a number of beds in the house that she can use. In the winter we use warmer tops and in the summer cooler tops. Your senior dog will benefit from this and can find a place that's just the right temperature to lie down. A fleece blanket on top of a dog bed will make it even cozier, warmer and a little softer. Some owners even look at treating their seniors to an electric blanket. Just ensure you are watching for over heating or burning of your pet. (Check out our product category Dog Beds & Houses)
Ensuring a proper diet in winter months
During the winter season a proper diet for your senior dog is even more important. Have a conversation with your vet about your senior dog's activity and dietary needs. All dogs can benefit form a bit more food to keep warm during the winter. This is the time of year you can give your dogs a little extra food, but be sure not to overdo it! Seniors dogs can put on weight quite easily.
Watch out for slippery surfaces.
Every human knows that ice can be dangerous and that we need to be careful on it, but dogs don't quite understand this. As you see your dogs, no matter whether they are senior or a puppy, skid across the ice and legs splay out! Not good for our senior pets. They may not have the strength to get back up. Here is where dog boots with traction like the ones I have for Jackie come in handy. (Read my post of "Keeping our Dogs Paws Healthy and Happy" and Check out my recommended "Doggie Boots")
Above all enjoy your winter wonderland walk with your senior pet
So when we are getting ourselves ready for a winter wonderland walk, make sure that we also take the time to get our senior pets ready for that extra special walk in the glistening snow. It's our responsibility as owners of very young or senior pets to take extra care during the winter months.  Enjoy your winter wonderland walk with your senior dog, I know I love taking Jackie out when the snow has just fallen and the moonlight glistens on it and its very quiet…!