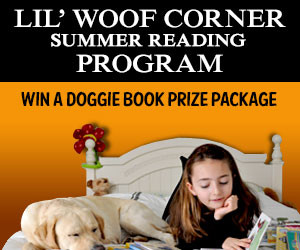 Hey kids do you have a pet? Or do you just like dogs? Want to read more about dogs or other pets?
We are sniffing out great book titles and looking for some avid pup readers! This is all about you the kids and pets!
WOOF Now What is holding a Lil' WOOF Corner summer reading program.
If you are between the ages of 6 to 10 years old and want to read a book and give us your paws up or down on it, please have your parents use the form below to submit your information for the Lil'WOOF Reading Program.
We have special guest authors that are looking to know what "you" think about what they wrote.
Our howling great Lil' Woof reading program begins when school is out which will be at the beginning of July. So get your names in as soon as you can.
Also, have a book you just read about pets and kids that you loved, tell us about it and we will get your personal review on our site.
Your name will be put in for a Doggie Book Prize Pack you can take away at the end of summer!!!
Just make sure you have your parents/guardians approval since when you submit your story, you are of age to grant WOOF Now What rights to publish the story, which could include a picture of you (the child reviewer) or your pet or you and your pet  and your information on the WOOF Now What website.
Looking forward to reading your re-voooooohhhs!!!
Hey Parents
Helping your children enjoy reading is one of the most important things you can do as a parent and its well worth the investment of your time. The Lil' WOOF Summer Reading Program runs from July 6 to August 28. We have books in e-format that have been provided by authors. We are also looking for your child's favorite books that are about kids and pets, they don't necessarily have to be about dogs.
All we require is your child's and your information to get in touch with you in the form below to and we will provide all the details on how the program will work.
Sign up today!
Oops! We could not locate your form.