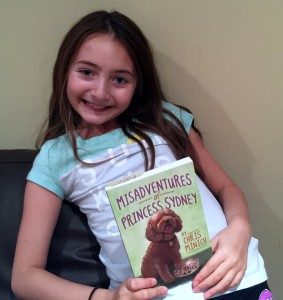 I read Princess Sydney and it was very funny!
Sydney's story and our Jackie's story are very much the same
I also wanted to share that Sydney's dad did lots of things like my dad did.  When he first came to the house he would bring mom flowers and Jackie a chew toy.
I also wanted to share that when Sydney's dad asked the mom to marry him he gave Sydney a stuffed ring. My dad has always said that Jackie was the one he needed to win over or mom wouldn't have said yes.
My favorite parts in the book were
I really liked that Sydney and Buddy called the rabbit's fluffy tails.
It was very funny when Sydney spilled flour all over the floor and then tried to hide it but the mom still saw and didn't really get mad.  Just like when Jackie was a puppy but she tore up a lot of paper it was so messy.
It was a little sad when Sydney got stuck in the bear hole, but everything worked out in the end. That was awesome that Buddy helped Sydney out.
That's what I liked about the Misadventures Princess Sydney
Here are pictures that I colored in for Sydney and Buddy.
I also wanted to thank Chris and Sydney for being a part of our Lil'Woof reading club. I can't wait to read your next book.
By: Stephanie