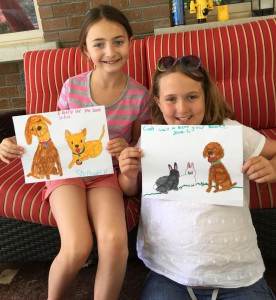 We are all having fun reading the Misadventures of Princess Sydney .. we thought we would post you some pictures that we have been coloring in about Sydney and Buddy.
Here are some of our comments:
Stephanie "I think its pretty neat that Sydney starts with an S just like my name does.  "S&S" "
David and Michael like Buddy. "We think Sydney is just being a girl and Buddy is just being a boy."
Zoe and Stephanie: "We think Sydney and Buddy are like Miya and Meesha. Miya is like Sydney a girlie girl. Meesha is like Buddy a brut! "
Here are some of of the pictures we colored in for Chris and Janelle.