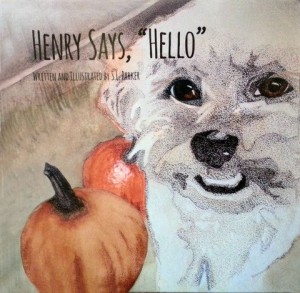 We have some new friends at WOOF Now What. Meet Sarah Parker, Henry and Reese.  Sarah has written a brilliant book for kids and dogs. They include great tips on how children should approach and be respectful of new dogs. You will meet Henry and his friend Reese. Reese is quite timid and unsure of people since she was rescued from a puppy-mill, but with Henry's helpful she becomes a happy and playful dog.
Great tips on meeting and greeting dogs
Henry's 8 tips to say "Hello" is perfect timing for the spring season! As everyone gets out for long walks and playing in the parks, children will be meeting many new dogs outside. You will find Henry's tips from asking permission of the dog owner to say hello to, how to approach a dog to pet it.
How to help timid dogs
We also meet Reese, she wears a yellow-ribbon. This ribbon as we learned is worn for dogs that need a little extra space.  We learn that Reese was treated very badly when she was a puppy. So when Henry takes her under his 'paw' he helps her realize that not all people are bad and how to not be so scared.
Read Lil' WOOF Corner review of this book from a kid's perspective. WOOF Now What suggests this book to be every families bookshelf.
It's a definite go to book for us and something that we will read on a regular basis review tips. Thank you to Henry and Reese and Sarah for writing a one of the best kid dog books for approaching dogs.
For all of you avid doggie lovers who would love to own this book.. Click here to visit Sarah's site ! 
Photo Credit: A new book Written and Illustrated by S.I. Parker